About Our Firm
For years, Wayne J. Mackin, CPA, PFS has been providing quality, personalized financial guidance to local individuals and businesses. Our expertise ranges from basic tax management and accounting services to more in-depth services such as financial statements and financial planning.
Wayne J. Mackin, CPA, PFS is one of the leading firms in and throughout the area. By combining our expertise, experience and the team mentality of our staff, we assure that every client receives the close analysis and attention they deserve. Our dedication to high standards and work ethic is the reason our clients return year after year.
Our Mission
Our mission is to help clients maintain financial viability in the present, while taking a proactive approach to achieve future goals. This requires open communication to reach an understanding of our clients' needs through research and sound analysis. Wayne J. Mackin, CPA, PFS is dedicated to meeting these goals with high standards of excellence and professionalism. We have been a staple of the area's business community for years, and pride ourselves on the level of esteem we have earned.
Our dedication to hard work has earned the respect of the business and financial community in and around the area. We believe this to be a direct derivative of our talent and responsiveness to our client base. Whether you are a current or prospective client, rest assured that individuals and businesses who choose Wayne J. Mackin, CPA, PFS receive competent and timely advice.
Our Team
Wayne J. Mackin, CPA, PFS has been continuously engaged in the practice of public accounting since 1973. He began this practice in 1981. His specialties include small business consulting, income tax planning and preparation, estates and trusts. He is a member of both the tax and financial planning division of the American Institute of Certified Public Accountants and the New Jersey Society of Certified Public Accountants, and has held the American Institute of Certified Public Accountants designation as a Personal Financial Specialist since 2001. He is a past president of the Estate and Financial Planning Council of Southern New Jersey, a current officer and charter president of the Medford Vincentown Rotary Foundation, a member and past president of the Medford Vincentown Rotary Club, and a member and past officer of the Philadelphia Canoe Club.
In his leisure time, he is certified by the American Canoe Association to teach white water kayaking and has paddled the Colorado River in addition to many east coast rivers.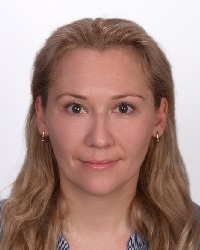 Oksana Mackin has fifteen years experience in the fields of accounting and banking. She holds a Masters Degree in Accounting and Auditing from Chernigov State University. She was Chief Accountant for both commercial and non-profit entities and was later in banking management. She is also a New Jersey Notary Public. Oksana is fluent in both Russian and Ukrainian and in her spare time enjoys fashion designing and yoga.